---
Item Type:

Car DVR

Brand : other

OSD Language:

Arabic,Spanish,Italian,Japanese,Chinese (Traditional),Chinese (Simplified),Korean,Swedish,French,German,Hebrew,Turkish,Russian,Portuguese,Russia,Lithuanian,Polish,Czech,English,Dutch

Interface:

Micro SD/TF,USB2.0

Touch Screen:

Yes

Special Features:

G-sensor,Led Display,Motion Detection,Bult in GPS,Cyclic Recording,Wifi Function,Bluetooth,Dual Lens,Cycle Recording,Time&Date Display,Microphone,With Rearview Mirror

Camera Resolution:

1920x1080

Original Package:

Yes

Battery:

Built-in

View angle:

105°-140°

Video Code:

H.264

Frames Per Second:

25

Max External Memory:

32G

Imaging Sensor:

Cmd Ov

Assembly Mode:

Rearview Mirror

Memory Card Required Reding Speed:

Class 6

Screen Ratio:

16:9

Video Format:

MOV

Battery Life:

Connect with car charge

Pixels:

1200Mega

Number Of Lenses:

2

GPS logger:

External

Display Size:

7.84 Inches

Chipset Manufacturer:

MTK6735

chip:

MT6735 quad-core 1.3GHz quad-core A53

screen size:

7.86 "IPS touch screen

operating system:

Support Android 5.1 operating system

GPS Navigation:

Car GPS Navigation maps Permanent free update

RAM / ROM :

RAM 1GB / ROM 16GB (System will occupy 3GB)

4G/3G/2G network band:

GSM:900(B8)1800(B3),WCDMA:2100(B1)900(B8),LTE:FDD,2100(B1)

ADAS:

Yes, support LDWS / FCWS/ FVMA

Remote Monitor:

Remote Monitor Mobile App Connection

Dual lens:

Yes,Support Dual lens recording simultaneously

View angle:

140°
Product Description
4G SMART REMOTE MONITOR SOLUTION!
A solution for drivers that connects 10 in one functions: 4G internet surfing, Remote Monitor , ADAS , GPS Navigation, Car Video Recorder, Parking monitor, Bluetooth hands-free, WiFi , FM transmitter  smart device with Android 5.1 OS 
4G Surfing Network Anytime Anywhere
If around the car, no wifi for internet surfing, no need worry.Just add one 4G SIM card can make you connect to the internet.  It's network band support   TD-SCDMA:2100(B34/)/1900(B39) WCDMA:2100(B1)  ,LTE:FDD 2100(B1)/1800(B3) TDD:2600(B38)/1900(B39)/2300(B40)/2500(B41)  

Makes your dvr surfing internet, anytime, anywhere. 

Please notice: this car dvr only support 4G LTE:FDD, please check your local 4G network band firstly before your purchasing. Thank you. 
7.86 inch Touch Super Screen Display  
You will have experience as using your mobile phone, for the screen is large 7.86 inch. Super screen displays,ideal for watching HD movies, playing games, browsing the web, or reading the graphics with bright colors, and provides detailed maps views, all in this 7.86 inch.
Android 5.1 Lollipop systems, Quad Core CPU  
The MT6735 quad-core 1.3GHz quad-core A53 high performance processor incorporates Android 5.1 lollipop smart systems, it make the car dvr runs more quickly, smoothly and stablely compare to Andorid 4.4.
GPS navigation  
Download your favorite GPS to internal memory, with the addtional GPS antenna, this dvr provides the best experience no matter the destination is. Plus, it's 4G network function , helps the dvr to get more quickly and smoothly online GPS navigation.
4G module for SIM card (Internet)+WIFI module router=Surfing faster
 Thanks to 4G SIM card and built in wifi, no matter where you are driving, you will enjoy the fun from internet surfing , make it possible for online navigation/ music /movie ect . 
Remarks: before you place the order, please kindly check whether your local SIM card network is below bands or not:
Remote Monitor Mobile App Connection
With our unique remote monitor mobile app "Car Assist"and internet connection,
it allows you to remote monitor your car driving path, and what happened around your car. 
Download the Car ASSistant APP
720p photo and 10s video alarm will be shortly (1-5s time) sent to your mobile if a car collision occurs.
Your car driving path will be recorded and real-time playback on car assist app.
One key to capture 10s video on car assist app via WiFi connection
ADAS Plus 
ADAS Plus functnion helps your driving safely and conveniently. 
LDWS 
Lane Departure Warning Systems

A warning is triggered when lane departure is detected based on real time video recorded. 
FCWS 
Forward Collision Warning System

A warning is triggered when a possible forward collision is detected based on real time video recorded.
FVMA 
Forward Vehicle Moving Alarm

An alert is triggered when the vehicle ahead of you moves based on the real time video recorder.
1080P HD front camera, record the truth, restore the real
480P After the camera, reversing image display, touch the porcelain rear-end are not the same
HD rear camera, with LED fill light, clear viewing rear view images,
and a reversing line; 
Better than the original car reversing images, reversing more secure
Detailed Maps with Free Updates
1, beautiful 3D landmarks, buildings,parks and mountains,help you find your
bearing in unfamiliar areas. Driving with Sygic GPS Navigation is both practical and enjoyable.
2, precise distance to each maneuver will guide you to your destination. If you
miss a turn our smart algorithm will immediately recalculate to get you back on your way.
Navigate Complex Interchanges with Ease  
Junsun GPS Navigation has lane assist with junction view that displays upcoming junctions and uses brightly colored arrows to indicate your proper lane. and easily navigate complex interchanges.
More Information at a Glance
The device keeps your driving map onscreen at all times and additional information appears alongside. For details, simply ask or touch the screen. As you drive your route, Up Ahead constantly informs you of nearby services, including fuel stations, hospitals .
Support Europe / North America / South America / Southeast Asia / Middle East map (We will install map according to your address, such as: the United Kingdom, we will install the map of Europe)
Support Russia, Poland map, South Korea ( support T-map, but need buyer install it) etc
Note: About the map, if you want to update the map, please contact us, we will upload it 
to the "Drop box", please do not download in other places, otherwise it will damage the original map.
Update map time: once a year .
You will have experience as using your mobile phone, for the screen is large 7.84 inch.
Super screen displays, ideal for watching HD movies, playing games, browsing the web,
or reading the graphics with bright colors, and provides detailed maps views, all in this 7.84inch screen.
When the machine is powered normally and the monitoring mode is on,
the vehicle is powered off; The recorder enters the dormant state. If the vehicle body
is bumped, the recorder will start monitoring video; Thus protecting your property
MT6735 quad core 1.3Ghz high performance processor incorporates Android 5.1 smart systems, plus it built in RAM 1GB+ROM 16GB, it makes Phisung E06 operating more smoothly and achieve multiple functions.  
Thanks to bluetooth hands-free, after pairing the bluetooth between dvr and smartphone, you could make and receive calls directly from the mirror dvr itself with the built-in MIC and speaker.
Do you like to listening to music while you drive? Thanks to the FM transmission
function, you could synchronize the mirror dvr music to your car audio with ease.
The FM signal is sent from car charger, it can only work by using the original car charger. 
General Information 
Touch Screen
7.86 "IPS touch screen
Operation System
Android 5.1 operating system
CPU & Frequency
MT6735 quad-core 1.3GHz quad-core A53
4G/3G/2G Network Band
GSM:900(B8)1800(B3),WCDMA:2100(B1)900(B8),LTE:FDD,2100(B1)
ADAS
Yes, support LDWS / FCWS/ FVMA
RAM / ROM 
RAM 1GB / ROM 16GB (System will occupy 3GB)
Resolution
1920*1080P
Wifi
Support
FM
Support
Rearview Mirror
Yes
Dual lens
Support
GPS navigation
Support
Charger
Connect car charger use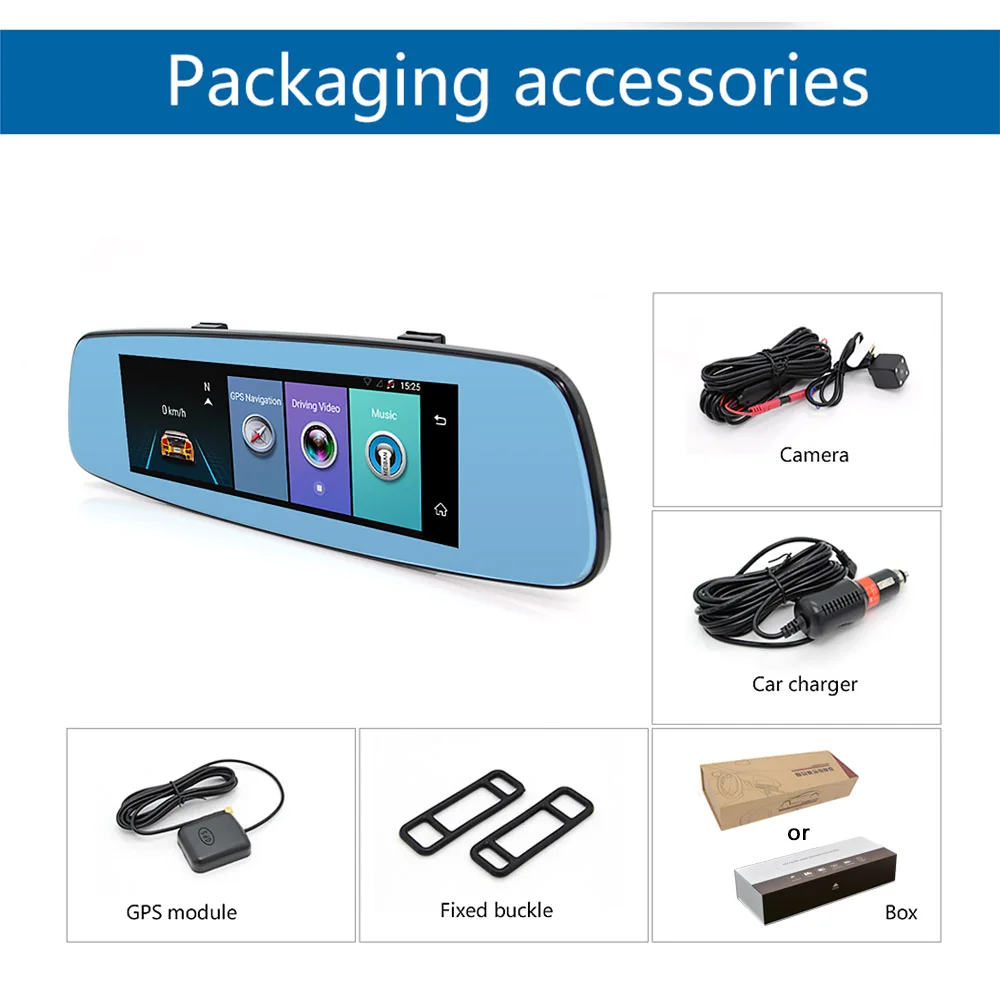 About Rear Camera Installation
Please connect the rear camera's Red cable wire with your car reverse lamp power 's Positive pole(+). 
and then plug the car charger into the cigar lighter to power supply the car dvr. 
When you get your car in Reverse Gear, the car dvr will automatically switch to the rear camera with parking line. 
Then the auto  reversing function will work. 

Screen Resolution:1920x1080
Video Code:H.264
Operating System:Android
Digital Media Format:MOV
Chipset Manufacturer:MTK6735
chip:MT6735 quad-core 1.3GHz quad-core A53
screen size:7.86 "IPS touch screen
operating system:Support Android 5.1 operating system
GPS Navigation:Car GPS Navigation maps Permanent free update
RAM / ROM :RAM 1GB / ROM 16GB (System will occupy 3GB)
4G:TD-SCDMA:2100(B34/)/1900(B39) WCDMA:2100(B1)
4G networks:LTE:FDD 2100(B1)/1800(B3) TDD:2600(B38)/1900(B39)/2300(B40)/2500(B41)
ADAS:Yes, support LDWS / FCWS/ FVMA
Remote Monitor:Remote Monitor Mobile App Connection
DVR functionality:Full HD 1080P Video